Decarbonized Society
We aim to reduce greenhouse gas emissions by implementing
environmentally friendly measures.
A decarbonized society refers to a society that achieves virtually no greenhouse gases responsible for global warming.
Diverting traffic through network maintenance will help reduce CO2 emissions.
Also, we are working to contribute to a decarbonized society by driving CO2 reduction from the maintenance of roadsides and other business activities.
CO2 reduction by alleviating
traffic congestion
By diverting traffic through network maintenance and bottleneck measures, vehicles are kept at an eco-friendly speed.
Network Maintenance
By promoting the development of Metropolitan Expressway Network, we contribute to diverting traffic and alleviating traffic congestion in the city center.
Adding Lanes and Establishing New Junctions
In order to maximize the network function of the central loop line, we implemented measures to add lanes to overcome bottlenecks and established new junctions.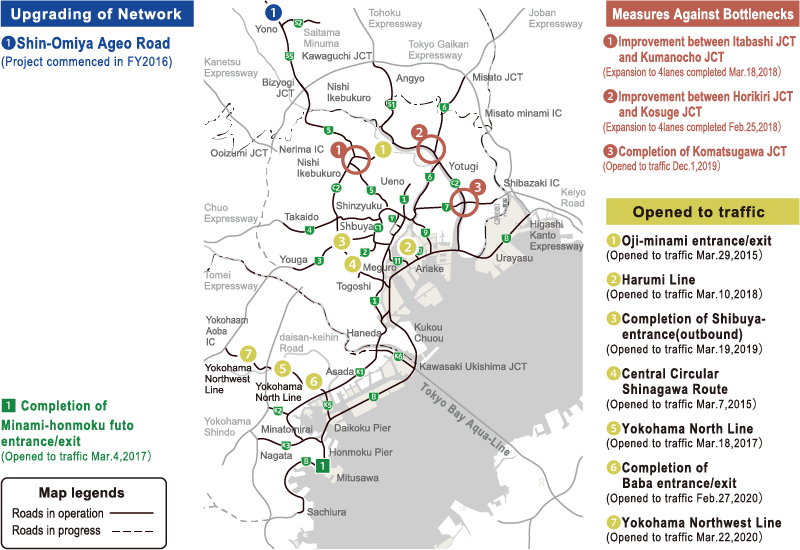 column
Controlling CO2 by Diverting Traffic
CO2 emissions from vehicles on Metropolitan Expressway in 2020 are estimated to be about 1.43 million tons per year. Assuming that all of these vehicles travel on ordinary roads at an average speed of 29 km/h, CO2 emissions are estimated to be about 1.86 million tons per year. This leads to the presumption that it is reduced by about 23% (about 430,000 tons per year) on Metropolitan Expressway.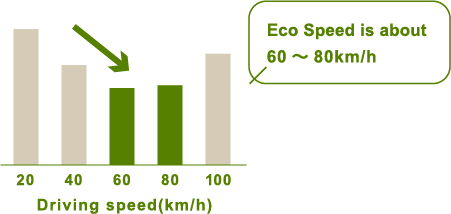 Measures to reduce speed when traveling uphill
(Escort light)
An escort light is installed on the roadside and prevents the driver from unintentionally slowing down when driving uphill.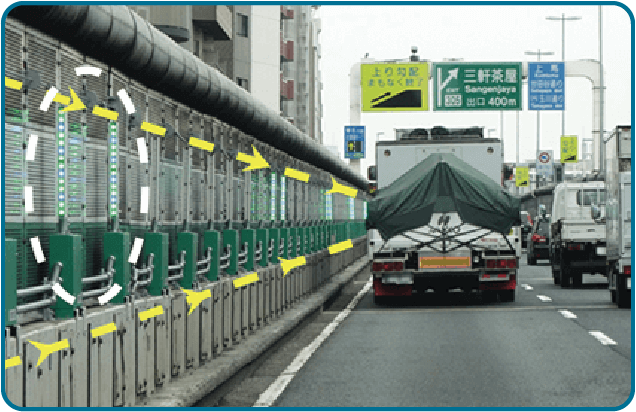 Improvement of lane markings according to traffic conditions
At the junction, traffic congestion will occur due to the decrease of lanes, etc. We have improved the lane markings according to changes in traffic conditions.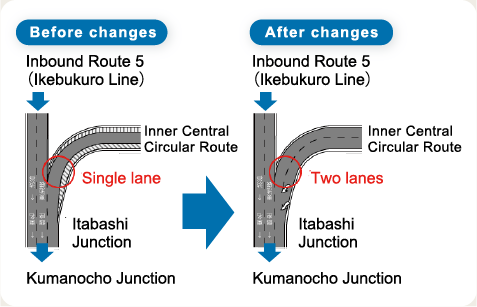 column
mew-ti
Free smartphone apps. We provide real-time traffic congestion information and suggest alternate routes.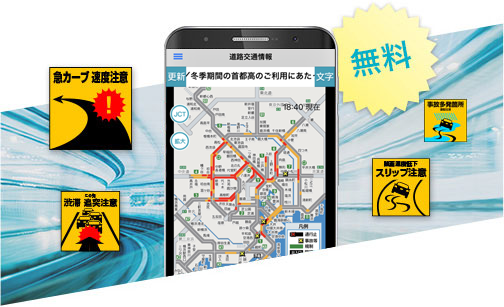 Other efforts to alleviate traffic congestion (Shutoko website)
Reducing CO2 Emissions
from Business Activities
We will support the widespread adoption of ZEV, implementation of LEDs with less of an environmental load and renewable energy sources.
Promoting the Use of ZEV
ZEV (Zero Emission Vehicle) refers to a vehicle that does not emit CO2 during vehicle operation, such as plug-in hybrid and electric vehicles. We have installed quick chargers to support and promote ZEVs. To encourage the use of electric cars, quick chargers for electric vehicles are provided in eight parking areas (Heiwajima (inbound), Yoga, Yoyogi, Shimura, Yashio, Ichikawa, Daikoku, and Kawaguchi). Therefore, electric vehicle users can use Metropolitan Expressway with peace of mind.
Quick charger installation location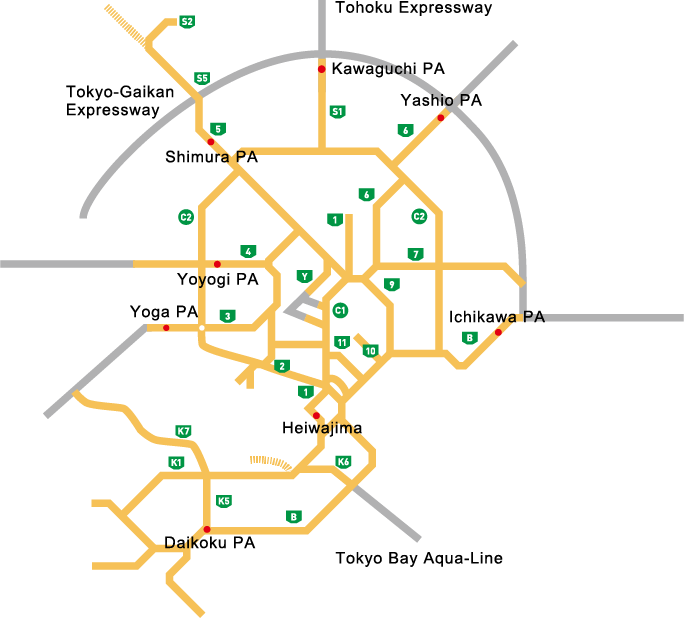 Detailed installation location and usage of the quick
charger for electric vehicles. (Shutoko website)
Introduction of Renewable Energy
We have installed solar and wind power generation systems at parking areas and tunnel entrances. The generated electricity is used to support electric power for air conditioning in the tunnels, as well as for lighting in parking area facilities and restrooms. Going forward, we will continue to expand the introduction of renewable energy.
Major installation locations for renewable energy systems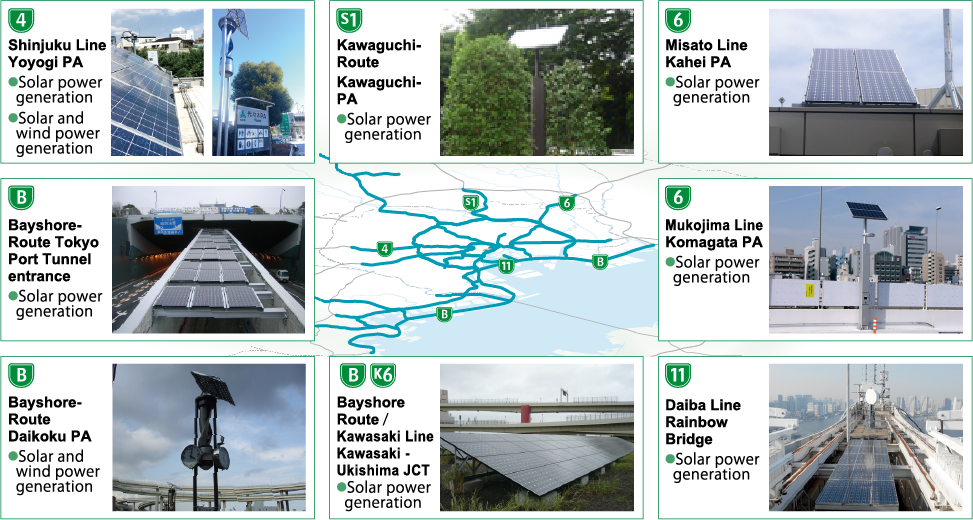 Eco-friendly parking areas
Bayshore Route Oi PA (east bound/west bound), Yoyogi PA, and Kahei PA has a water-saving toilet, solar LED block, incorporated environmentally friendly technologies such as LED down power, this is an "environmentally friendly parking area". In future, we will continue to proactively implement environmentally friendly initiatives in other parking areas as well.
Water-saving toilets
We use water-saving toilets and various measures to prevent odors and stains.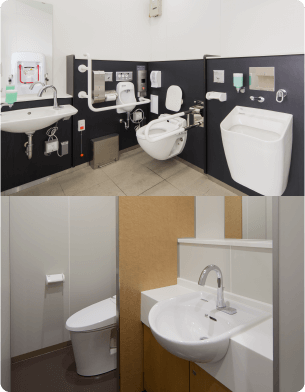 Solar LED block
Solar energy is stored during the day, and the LED blocks light up automatically to guide customers safely after dark.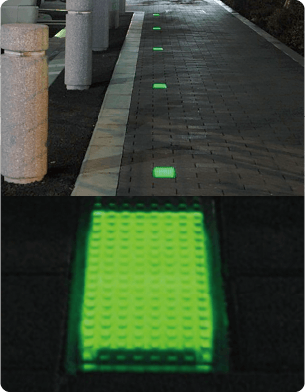 LED down power
LED downlights are used for indoor lighting to save electricity.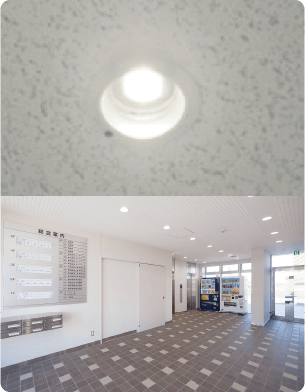 LED Road Lighting
We are promoting the conversion of road lighting to LEDs as one of our initiatives to save energy. Compared to conventional mercury lamps and high-pressure sodium lamps, LED lighting consumes less power and has a longer life. It contributes to energy conservation and reduces global warming control.
Lighting of Elevated Parts
On the Harumi Line, which opened in February 2009, since installing the first white LED lighting for expressways as lighting for elevated parts, we are steadily improving the LED lighting. In the future, in addition to maintenance on new routes, we will promote the introduction of LED lighting on the existing routes in line with the time of renovation.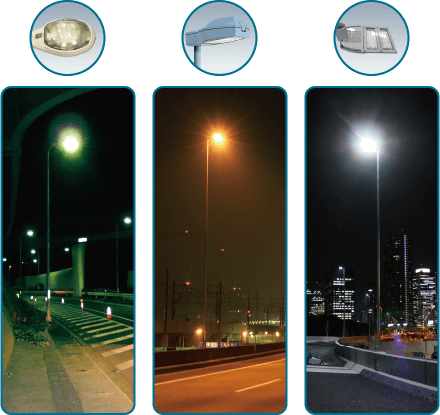 Lighting of tunnel section
Not only does it achieve low power consumption and long life as well as elevated lighting, but it also allows the lamp mounting interval to be expanded, a reduction in the number of equipment is realized, and further energy saving is achieved.
In addition to introducing LED lighting to the Yamate Tunnel (Bayshore Route -3 Shibuya Line) that opened in March 2015, existing tunnels such as the Aoyama tunnel, Kitanomaru tunnel, and Yaesu tunnel, in March 2020, we have also introduced LED lighting it to the Yokohama Northwest Tunnel.
In the future, we will continue to install LED lighting on existing routes such as the Haneda Tunnel at the time of renovation.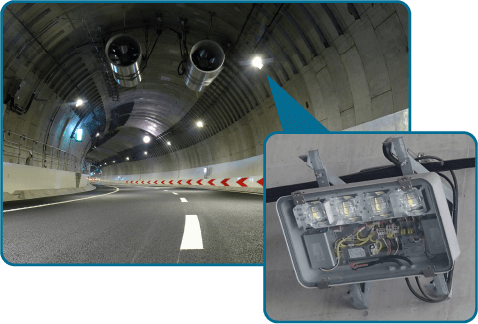 column
How much electricity can be saved?
LED lighting cuts power consumption by about 70%
(Reduction rate at Rainbow Bridge)